You can hear the A Funk
Above the Rest radio show
Saturday Nights from
9 p.m. to 11 p.m!!
Starting April 18th, Tune
In To Our NEW time!!
Saturday Nights at
9 p.m. to 11 p.m.
On the Web at:
www.kuvo.org
Denver Vicinity:
KUVO (89.3 FM)
Breckenridge Vicinity:
KUVO (89.7 FM)
Laramie, WY Vicinity:
KUVO (107.1 FM)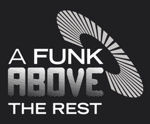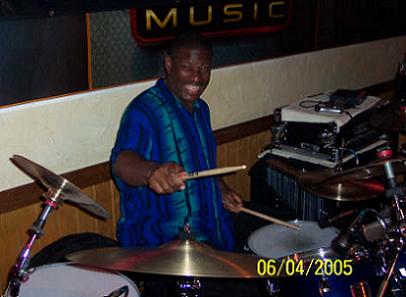 There is no doubt that once you've heard the grooves of Charles Dottson it will be an experience. Charles was born in Susanville California raised in Denver Colorado. At the age of 5 his mother asked him what instrument would he like to play. One Memorial Day mom took him to a parade and the rumbling of the bass drum and sweet clicks of the snare hits intrigued him. That then led his mother to put him in private lessons; she let him know if you're to play you need learn the technical part. She wanted to give him that chance to have the opportunity that she didn't have. He stayed with the lessons throughout his early years and into his twenties. He has played in marching bands, drum and bugle cops, jazz ensembles and orchestra. His first professional job was with two keyboardists that played for a special gig in February's Black History month, which at the age of 17 allowed him to put his full drum set skills to work. He has played with local bands and still so as Ron Ivory's, One On One and Miles Apart Band. Jakarta, Jazz Partners featuring Walter Bembry, First Take and local national jazz group Dotsero. He has performed with The Drifters on several occasions and opened a show with the legendary solo vocal artist and lead singer from the Temptation, Eddie Kendrick's.
He also has taken in some extra time in the summer working a jazz workshop with the CU Jazz ensemble. Being drummer-on-call so to speak, it takes no time to just fit in with any situation at a moments notice. He continues to learn and grow in the music field to make the grade on what is necessary to keep working in the competitive arena. "I like the way you can join other musicians to work off of what they bring to the table in ideas and skill set; I've worked with a group once that consisted of Middle Eastern culture, the bands name was Maxcimum, which comprised the letters of each members first name. This was a great experience that allowed me to share their flavor of East Indian grooves and sounds mixed with some funk grooves with a dash of jazz. This was so cool. I took that to a country band that I played with Bitter Creek and embraced them with rock/country grooves. It's really nice when you get with several individuals that take it to another level and decide to got out-the-box and come up with nice results." Charles stays with the mind-set to have the solid pocket that holds the rhythm section together, this is paramount to the structure of a tight band sound. "I listen very well, you can't come into a situation and expect to dump a million chops into what is just good groove. I've listen to my heros and mentors, such as Billy Cobham, Leon Nudugu Chandler, Harvey Mason and a new friend of mine Charles Collins one of the original studio drummers and performer from Mother Farther Sister Brother, MFSB now Master of Funk Soul and Blues. Great lessons to be learned from all."
He has kept a long time agreement with his mother asking him that, if you do anything with this just never give up playing, you'll never know what it could do for you or where it will take you. In doing this he has performed in one of the biggest jazz festivals in Colorado, Breckinridge Jazz festival with Latin Jazz group Eco Bay in addition to what's already been done. His side career with music has turned into a great journey that still is moving forward, along with other duties being a husband and father. He takes time to work on a radio show with a dear friend Skip from his youth; A Funk Above The Rest Show on KUVO 89.3 FM in Denver Co. A local public radio station, which is the number one Jazz station in the country. As his career continues, the challenge, experienced and his focus continue to have bigger and greater responsibilities to come.