You can hear the A Funk
Above the Rest radio show
Saturday Nights from
9 p.m. to 11 p.m!!
Starting April 18th, Tune
In To Our NEW time!!
Saturday Nights at
9 p.m. to 11 p.m.
On the Web at:
www.kuvo.org
Denver Vicinity:
KUVO (89.3 FM)
Breckenridge Vicinity:
KUVO (89.7 FM)
Laramie, WY Vicinity:
KUVO (107.1 FM)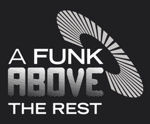 3/21/2009
Hey Skip! (I hope you still remember me) I am so proud of you for getting your own radio show! It turns out that it's the BEST RADIO SHOW IN DENVER! How about that? I am looking forward to hearing from you really soon. I am your biggest fan. Take care of yourself, don't get none on ya!
One more thing, MAN THAT TEMPTATIONS VERSION OF "HOLD ON, I'M COMING" WAS SLAAAAMIN! Now THAT was straight funky! Lord have mercy!
Danielle the Diva

3/9/2009
Skip is CCDC's new best friend. Thanks for all you are doing to help us out!


2/5/2009
London Calling!
Skip, just heard your show on "In soul we trust" I DJ'd all the funk back in the day throughout Europe(and I'm still doing it!) It was a real pleasure to hear your show,just like having sounds jumping randomly out of the record boxes. Such a great way to hear your favorite sound without doing the choosing. Thanx and keep it on the one.
Nicky Flavel

2/3/2009
Hey Skip,I didn't know that you could stack funk up that high. I look up to you, literally and figuratively. Keep giving us the funk, the whole funk and nothin but the funk! I look forward to a succesful business partnership. Let's heal the world one note and one shot at a time :-)
MJ #80


11/15/2008
Dr. Skip the FUNKMEISTER! :)
I'm so glad to see that your star continues to shine brighter and brighter - no one deserves it more. Would love to hear all the latest news! Jason and I are busy busy busy, but happy as can be. I totally won the husband lottery - he's a gem!
Much love and funkiness,
Angie

11/5/2008
Good site! Successes in future
tainiBexurin


10/27/2008
Skip you are the best! Thanks for your support of Rock Steady. I enjoyed the interview on Saturday, keep it hottt!!
-Lisa Lauren Smith - Pop/Rock Singer

10/13/2008
Ahhhh what a great show my man, superb music choices and thanks for the BigUP means alot coming from such a wonderful guy such as yourself Big Kisses

Michelle/Alanta Ga


10/13/2008
Skip,
Thank you! I really appreciate you letting me know. I listened to your show after I got home from my gig. You play the good stuff! I was diggin the old school! I can't tell you how much I appreciate you playing my tune. It was great to hear my tune being played for a radio audience! My plan is to get an EP on itunes in the next month or two, until then, yes, please direct anyone interested to my myspace website. Again, I really appreciate you and I'll be tuning in! Take care Skip!
Eric Anthony/Utah

10/6/2008
Thank you Skip! I feel the same way about you. You too are a special person, which is why I'm enjoying your success with what you've created out of your own vision and hard work. Most people won't take the chance to follow their ideas. They talk about it, but won't actually do it. The do'ers are a special breed. They actually take the chance and DO THINGS to fill a need or a gap they perceive. I believe that when this happens the world becomes a little bit better place, maybe in a small way, but better by creating something that could make someone ELSE happy. And, by following their dream, they provide a role model for others that it IS possible to follow your vision and succeed at it! Keep up the great work.
Best Wishes,
Gordy

Skip,
I just wanted to say thanks for the show you put out tonight. Tonight was the last time my kids got to stay up late at my place because they need to get ready for the school sleeping schedule, so I'm going to have to find a way to take my children A Funk Above The Rest a little earlier in the evening.

I want to share something with you that I believe you would appreciate and is just a nice thing to hear. During the show, my son Dorian and I started dancing, messing around, and just having a good time. I was holding this 85 pound kid of mine in my arms, swingn' around to the beat, and feeling so good from hearing laugh like crazy, I couldn't stop even though my arms were about to brake and I was running out of gas quickly. I was able to keep going though because his happiness gave me quite the adrenaline boost.

Don't get me wrong though, I play with my kids a lot, but I got a important reminder tonight which is, even though I'm going through some tough times, I have to put all of that aside and make sure I make time to bring out even more of that laughter that my eight and ten year old deserve. I mean, they were just born yesterday and they're already eight and ten, so I need to make sure I make the best of every moment with these youngsters before they turn eighteen and twenty tomorrow. I hear they grow up fast.

Don't worry about replying if you don't have the time, I know this is just one out of the millions of emails you get. I might be able to make it to Jazz@Jacks on Tuesday and say hello.

Just remember, you really have brought something special to Denver and everyone else that has found out about your show around the world.

Take Care,
Haven

09/10/2008
Skip - Love the show and the memories that come with the music. Thanks for putting it together!
My best,
Ray


08/17/2008
You have a vision, keep it alive!
We appreciate you!
Kathy

08/01/2008
Hey Skip,
Welcome aboard the funkiest station web-wide! ;o)
www.NewFunkRadio.com presents "A Funk Above The Rest" on Sunday 20:00 CET for the first time in europe.
Lets make them shake and dance! ;o)
Keep Dah Funk Alive!
Charlie :)
http://www.NewFunkRadio.com