You can hear the A Funk
Above the Rest radio show
Saturday Nights from
9 p.m. to 11 p.m!!
Starting April 18th, Tune
In To Our NEW time!!
Saturday Nights at
9 p.m. to 11 p.m.
On the Web at:
www.kuvo.org
Denver Vicinity:
KUVO (89.3 FM)
Breckenridge Vicinity:
KUVO (89.7 FM)
Laramie, WY Vicinity:
KUVO (107.1 FM)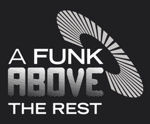 07/22/2008
Skip, thanks so much for the great music, for your talent, and for going forward with your vision of syndication - you're an inspiration to all of us! All the best always - all ways!
Sharon FitzGerald

07/21/2008
No More Excuses! You GOTTA listen to this radio show!
Jayme Maestas


06/23/2008
Thank you, thank you, thank you! For saving us from sterile, stagnant, boring radio! I love the spanking!
darren

06/08/2008
I haven't heard funky tracks like these in bulk on the radio since the 80's, when they got mixed in with the pop. Your mix is much better because you can leave out the bubble gum (no offense to those who like that stuff).
My favorite show is always the next one coming up!
John from Boulder

05/31/2008
Hey Skip,
I'm just stopping in the show you love and wish you all the best. You are truely a blessing to all us who you've touched. May God continue to bless you.
Jameelah


05/28/2008
I tune in on the web Saturday nights from 10pm to 12am here in Oakland, California because Skip a.k.a "The Funktologist" plays the best brand of funky music just the way I like it, spankin' sticky and stanky. Keep up the good work Skip!!!
Charles "Daddy Cool" Davis

05/11/2008
All the way from Denmark, Thank you for supporting me and my album "Jazz Handle" and for being such a great person.
Kisses,
Lene Riebau


05/10/2008
Yo Skip. Keep funkin on the one. Sounds good. keep doin your thing. thanks for the love!
peace.
dana salzman

05/10/2008
Hey Skip,
It was great catching up with you today!
Keep Colorado Radio Alive!!
Robert Case


05/09/2008
B.I.G. THE MAGAZINE REPRESENTING FUNK IN ORLANDO - media@tsmgg.com

05/08/2008
funkutations to my favorite radio show/host skip.......keep feedin us that real funk!!!!
RocmastaRob-

05/07/2008
Hey Skip,
Just checking out your page again and sending you love. You are truely a good spirit. I feel blessed knowing you. May God continue to bless you.
Much Love
Jameelah


05/06/2008
"The desired effect is what you get when you improve your interplanetary funksmanship!"
Skip...keep doin what you do! and when you do do what you do, do it how we do!!!! thanks for keepin the Fun in the K and the airwaves ssssstanky! I pledge groovealegiance to the flag! The funky funky flag of funkadelica... P.s. U.S. Pipe will be opening for the P at the Mish! come party!!!
Citrus

05/04/2008
Skip, great show last night. Keep keeping it real. What a way to end the show.
James F. Brown
Hurry Up CD cdbaby.com/cd/restore3
After 9 CD cdbaby.com/cd/restore2
Emotions Of The Heart CD cdbaby.com/cd/restore


05/03/2008
Hey Skip many thanks to you and those who helped to see the compilation c.d.through, and inviting me to put my song "Feeling It" on it,it's a Funky cd !!
Stay blessed, Funky-Z.