You can hear the A Funk
Above the Rest radio show
Saturday Nights from
9 p.m. to 11 p.m!!
Starting April 18th, Tune
In To Our NEW time!!
Saturday Nights at
9 p.m. to 11 p.m.
On the Web at:
www.kuvo.org
Denver Vicinity:
KUVO (89.3 FM)
Breckenridge Vicinity:
KUVO (89.7 FM)
Laramie, WY Vicinity:
KUVO (107.1 FM)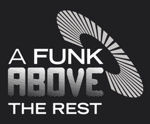 11/9/09
Man oh man, the funk is alive in Denver, Colorado. I'm so proud to be a part of the funkiest show on radio with Skip, me as co-host 'CD the Doctor' have been friends with Skip as long as we have started learning algebraic equations, much love to you my brother you've come up with the formula that makes the new recipe Funk-Or-Not. Keep taking us higher, I'll be right there with you.
CLD III

11/3/09
How are you doing Skip? I just wanted to tell you that I enjoyed the Motown celebration. You did very well. I must be a music freak because I have about 98.9% of the songs that you played in my Ipod.
Keep up the great work. Take it easy!
Ryan


9/25/09
I'm so happy to know where to get my funk on! Oh yeah, baby. Skip the funkologist can bring it on. Thank you for all you do and congratulations on your great success!!!
xoxo
A

8/24/2009
Hey, Hey!
Just happened across your site through IMA and I must say it is funky up in here. I really dig that opening cut. Who ever played that bass needs to be kicked! lol Keep it real! I'll be listening....
Lady Imurj


8/18/2009
I may not have insurance and I may not have a doctor. But I'm real happy that I have a FUNKTOLOGIST, yes I feel real good!
Chris Pytel

8/17/2009
I'm a big fan of jazz & have been for a long time. I like all kinds of music and enjoys all the KUVO shows. I recently started listening to funk, I love it!
Richard Detar


8/17/2009
In honor of my 14 yr old son who has autism, he loves the music! He dances when he hears it. He does not do this with other radio shows. He loves the funk! This show is my favorite saturday night event!
Kimberly
Sedalia, Co

08/09/2009
Hi Skip,
Thanks for the fantastic show! I would love to bring my teenagers to the studio some time. The fact that this generation will move & grove to classic funk is a great sign that will keep it alive. My son Dean would really appreciate some new cdz.
KIMBERLY, EVA, DYLAN & DEANO


07/31/2009
Thanks again for your time and I'm listening closely to your show, it's a one of a kind!
Kenny Wilcox

07/01/2009
Skip,
Thank you for playing my music & keeping the funk alive!
Great show!

God bless! :-)
Recording Artist Wes Patterson


5/23/2009
I was a long time listener of 1510 KDKO growing up. And I am so glad to have found you thanks Skip!!! Keep up the good work brotha!!
DJ PAUL

4/5/2009
Hello to all ! Great site. I am new here greetings to all from Poland.
cheapcarsauction


4/5/2009
I've worked with CD the doctor and admire his love for life and music. Keep doing what your doing.
Meashell

4/2/2009
Hey Skip,
I'm so glad as of the 18th of April that your show will start airing at 9pm cause it's been so hard for me to catch the FUNKSTER of Colorado. By 11pm man I'm about to turn out the lights, but now I'll never miss a show, hey I'm a Funkster too.
DWarren


4/2/2009
Hi Skip! Great website & radio braodcast here in Detroit during your visit! It was really a pleasure to meet you, hear some of your story, & I can't wait to read your book! I hope you will enjoy reading my book! Look forward to hearing from you soom! Coninued success now & always!

Peace, "MO"
http://moynauddin.googlepages.com